Name: Akahana Teague Only her sister calls her Hana.
Gender:Female
Race:Japanese American
Age: 14
Birthplace: Japan, Tokyo
Physical Appearance:
Personality:
Akahana is a sweet lovable moron. She is often distracted by anything and will often wander off from whatever group she might be with cause "that way looked more fun." She is insanely intelligent but would rather play with kids and animals instead. She's happy go lucky and acts like she doesnt have a care in the world. She hates fighting and when forced to do so she unleashes the whole of her power(by calling on her older sister Roka) on whoever was unlucky enough to upset her. Akahana can be rather mature for her age, understanding that because her and her sister live alone now she can't always have the toy, game, or art thing she wants. She is a very gifted child, with great artistic talents. She can play several instruments9 violin, flute and Piano among them) and she has little trouble learning a new one with enough time to practice. She takes her studies seriously. Hana is a good student, near the top of her class, and will often tutor the younger kids in their apartment building after school.
All that aside when Hana has free time  she is very much the young teenaged girl that she should be. She enjoys dancing though she can't take lessons any more, since her sister can't afford to pay for them after their mother passed. Hana is ok with that, she knows that things have to change, and she accepts that fact.
Hana likes flowers, especially roses (her name means red rose), she enjoys cooking and will often cook dinner for her and her sister. She is an avid reader and a eloquent speaker for her age. Hana likes to play video games and wants to one day make her own.
History:
Akahana lives in Tokyo with her Older sister Roka, who she called Awa since as a child she couldn't say her sister's name. Their mother passed away, 8 months ago, and since then the two have been living on their own. Their parents never married at their mother's request, however their father has been involved in their lives. With their mother gone, he is urging the girls to move to the US and in with him. Roka has been working hard to keep the two of them going. Hana has given up her lessons that she used to take after school and for her birthday has only asked to spend with her sister. Hana tries to help out by baby sitting the kids in her complex on weekends.
Hana wants to attend the University of Tokyo when she gets older. She knows that their father would like them to move in with him in America but Hana doesn't really want to leave her home. She's unsure of what to tell her sister, other than do what's best for them both. And really as long as Hana has Awa, she'll go to the ends of the Earth.
In Character Profile:
Name: Androkaimetia (Kai)
Gender:Female
Race:Creation Fae
Age:Unknown
Birthplace:unknown
Physical Appearance:
Her face, hair and eye color
Travel dress
Her wings and hair length
Personality:
Kai is a sweet lovable moron. She is often distracted by anything and will often wander off from whatever group she might be with cause "that way looked more fun." She is insanely intelligent but would rather play with kids and animals instead. She's happy go lucky and acts like she doesnt have a care in the world. She hates fighting and when forced to do so she unleashes the whole of her power on whoever was unlucky enough to upset her. Kai's childlike nature can be very annoying and trying for anyone traveling with or taking any kind of direction from her. She often forgets what she was going to say and just makes something up to seem like she knows what she's doing. Over all she means well but is often.  
History:
Before time was time, in the place where all came there was creation. From that creation sprang two, one a god, Order, and the other a goddess, Chaos. Order, despite his name is of the destructive, his followers believing that only when all is gone can there exist true and complete order. Chaos is the other, a force of pure creation her followers falling for love and life, living as if they have no tomorrow to live. This is where the battle for all the worlds begins.
Chaos before she created life at all, was without inspiration. She needed the spark to give her creation. So in the ether of the universes she found a being. Khada, Goddess of Inspiration. Kadha gave to Kai the spark she needed to start the creation of all worlds. Kadha gave Kai the big bang.
When time became Time and the worlds started to form and life began to grow, Chaos nurtured this small thing, this new growth of life across the worlds. While her brother Order, sought to destroy it all. This they fought over for many years, until one day Order, in his wickedness, shattered Chaos's soul, causing it to be scattered across the worlds she so dearly loved. With Chaos gone for good, he thought he would be able to bring his complete order to the universe, however his plans were run afoul. The goddess Chaos of creation had in her pieces all converged on a newborn soul and made a pact with her, that when ever all the parts of her soul are in one body Chaos would be allowed to occupy the body the soul inhabited, thus effectively stopping her brother from being able to destroy the entity of reality.
Kadha fought with Kai and others for life but was unable to save her friend from her fate. So Kadha took a human host and found Kai on Earth each life she lived. They lived each life together, cause life without Kai according to Kahda is boring and not really worth it.
Kai has been freed from her eternal reincarnations and can now take her place as the Source Goddess she was alway meant to be but has instead opted to remain in whatever form she wants in whatever reality she wants cause "just floating in space is BORING!"
Kai's shattered being has been restored to her and she is now able to travel to world that had been closed off to her before. She has taken the form of a Fea, sill using her powers of creation but at a limited access unless pushed and becoming her true goddess self.
Magical Girl Name:
Androkaimeta
transformation item:none
transformation phrase: none
Ending Pose:
Puffed up.(they hate that)
Their Change of Appearance/Outfit:
Her dress (battle attire before being pushed to her limits.
Kai when pushed to her limits Kai becomes the Primal source goddess she is. Her hair literally becomes flames licking around her body. her wings grow in size and their colors becomes a deep blood red. Her eyes glow with fire and her voice becomes that of the Source where all her power originates. Her dress becomes gold amour fit for battle. over all a scary sight.
this armor's boots that are gold where these are sliver and have red and ruby accents.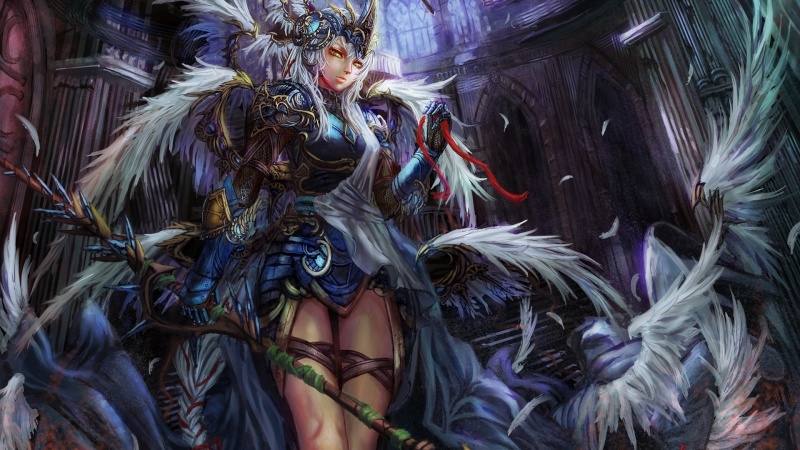 Where this armor is silver her's is gold and the accents are red or ruby, instead of the staff here she has her staff. See weapons for description.
Powers/Weapons:
Kai wields a Staff. The staff is about 6 foot long with a lily on fire on the top. She uses this to not only attack but direct her magic attacks to. It's gold in color and will burn any that touch it or it touches. (she carries this with her out of battle as well)
Other Abilities (ex: agility, strength, ect.):
Andokaimeta is the primal and original form of Kai, before she found her "humanity" and her love for all things living. She is hard to control and harder to calm down. She's kind of like the Hulk but a lot less green and with more rage. She much be pushed past the limits of her tolerance which is a lot or if she's attacked by her brother Order. This form drains Kai emotionally and physically and she must rest after returning to her normal happy go lucky self.
Weapon:
Staff see above for description.
Appearance:
Her face, hair and eye color
Her wings and hair length
Special Abilities:
Phenomenal cosmic powers!! Itty bitty attention span. Kai can do anything she can think of and she can think of a lot but her major down fall is her attention span. Really she has the attention span of a group of ADHD kids in a pet/candy/toy store with video games, puppies and bikes. When this goddess get serious you better run for cover and hope you aren't the one that upset her.
She is a great cook and often uses this ability to keep her companions from kicking her to the curb.
Additional Information (Optional):
Kai can cross demsoins and realities to be anywhere she wishes.
Kai is accompanied by a deamon guardian named, Zareth. Zareth's race of deamon is bound to the one they are to protect through eternity, and can at times take the shape of a tattoo on their charges body. Zareth's race are the protectors of Gods and Goddesses. Zareth stands around 6'5 and most of the time looks like a normal man with shoulder length white hair that is usually diyed to match Kais. He has bat wings, that fit his body. When he is full demon mode his body is gold and red swirling marble, and his eyes, while normally a deep shade of green matching the right eye of Kai, turn to a gold and red swirling mess.
Kai and Zareth are bound together through the ages. The tattoo shape that Zareth takes when on Kai's body is that of a phoenix. He usually is a big chest piece as a reminder to well everyone that she and he are together, but he is more like her big brother than a lover. Zareth or Zare to Kai, dotes on the great goddess. (these two are always together if needed I will make a bio from him but they are a matched pair. )